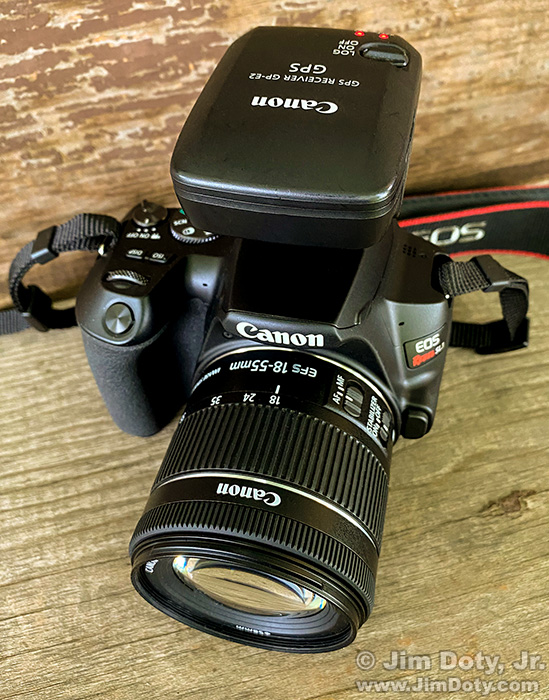 The Canon EOS SL3 is Canon's smallest and lightest DLSR. It is GPS capable, so I decided to check out how the GPS works. It is a fine little camera and has good reviews. It received a Silver Award at DPReview.
As a size comparison, here is the SL3 next to a normal sized Canon 5D Mark III. If you want to travel really right and I don't need all the bells and whistles of a camera like the 5D Mark III, grab the SL3. With recently released Canon software and a Windows 10 computer you can also use the SL3 as a high quality web cam that is much better in quality than most web cams.
I put a Canon GP-E2 on the camera and set the camera's menu to connect with the GPS unit (see the link below for instructions on how to do this). As an added plus, you can set the Canon SL3 to get GPS information from a smart phone. Just choose your phone in the camera's menu (also at the link below). Either way, the GPS coordinates become part of the metadata in your images.
I went to a nearby college which has some easily identifiable landmarks that are clearly visible in a satellite photo. There is a small loading zone next to two of the main buildings on campus. Two street lights at the loading zone are on the sidewalk and they are easy to see in a satellite photo.
I stood at the base of the light post on the west side of the loading zone (marked with a red X) and took a picture with the Canon SL3. Back at home I looked at the GPS coordinates for that photo and plugged them in to the search box in Google Earth Pro to do a location search. The yellow pin shows the location of the coordinates from the camera. The yellow pin is about 20 feet from where I was actually standing (red X). That is not unusual. Camera GPS coordinates can be up to 30 feet off from the true location where the photo was actually taken.
I have tested up to three cameras and one iPhone from the exact same spot, and all four gave me slightly different GPS coordinates. I have also tested just one camera on different days and ended up with different coordinates each day. That is par for the course too. 30 feet is plenty close enough, especially if you look at a photo months or years from now and wonder "Where was I when I took that photo?"
There are times it is handy to have the GPS coordinates for the photos you create, and times a photo editor won't publish one of your photos unless you have the coordinates of the location. So I try to remember to turn the GPS unit on whenever I am out taking landscape photos.
You can learn more at my "how to" series on using GPS in photography.
Links
"How To" Series: Using GPS in Photography
Canon SL3 Advanced Users Guide. This downloadable PDF guide has information on using either your smart phone or a Canon GP-E2 to put GPS coordinates into the photos you take. That information is on pages 419-422.
Canon EOS SL3 and Canon EF-S 18-55mm lens at my Amazon powered photography store.
Canon GP-E2 GPS Receiver at my Amazon powered photography store. This GPS receiver works with the EOS 5D Mark III, EOS-1D X, EOS 7D, EOS 6D, EOS M, Rebel 4Ti, and any later model that displays GPS device settings in its Set-up menu.
Canon SL3 review at DPReview.
Canon software that turns select Canon cameras (including the SL3) into webcams.