Fourteen years ago I was looking through some of my images and decided my portrait photography was lacking. I had some portrait images I was really proud of, but I lacked consistency. That is when I got the bright idea of working with a professional model.
That is when I found Sarah, a local professional model. I contacted her and told her I wanted to schedule her for a photo shoot "some time in the future." She said "Why not book a shoot now?" I told her I wasn't ready yet. I needed to practice photographing some "amateur models" first to improve my skills. She said "You will improve faster if you work with me now." That made a lot of sense so I scheduled two shoots, one for August 10 and a second on August 15. I booked two shoots so if the first shoot didn't go well I would have a second chance to do things better.
I was hugely nervous the day of the shoot. I wanted things to go well. As it turned out I created some images that were not very good, but some good ones too. The photo above was created on that first shoot. On our second shoot I did better.
Sarah and I continued to work together and she began sending other quality models my way (and she also clued me in on some models I should avoid). I learned a lot. In fact, a whole lot!
I also started reading books and articles on portrait, beauty, and glamour photography.

There were so many things to learn. The use of light and shadow. Line, shape, form, and contour. All kinds of poses. Different kinds of natural light. How to use 1, 2, 3, or 4 studio lights. Little by little, with guidance and a lot of experimentation, it all began to come together.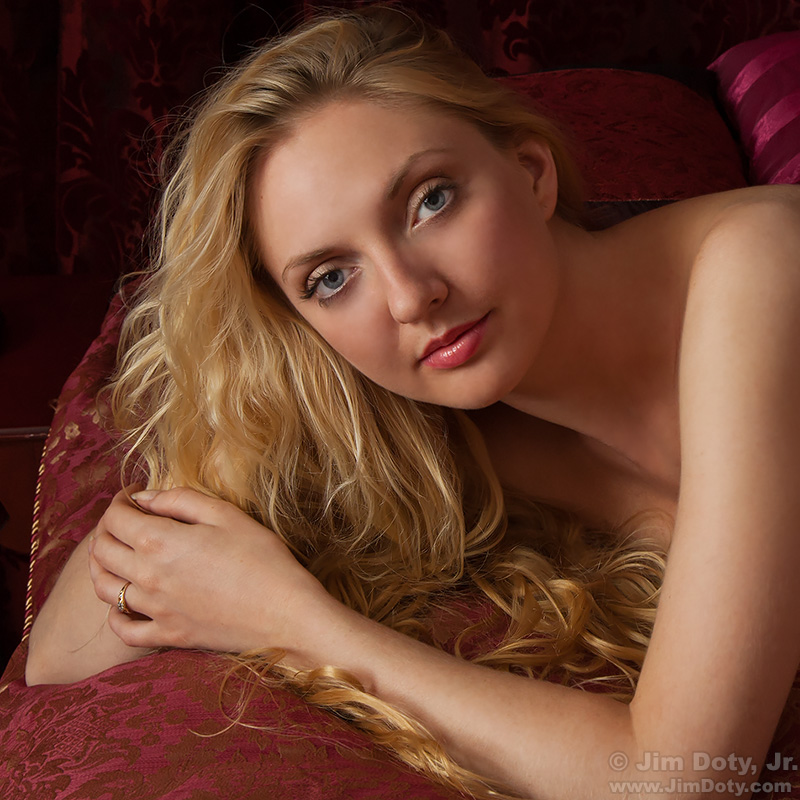 I knew I was making progress when Sarah contacted me one day and said, "Tiana is coming to Ohio. She is an amazing model and you have to work with her." So I booked a day with Tiana. But just as important, Sarah had decided I had come far enough in my skills to work with a first rate traveling model.

Working with models did a lot to improve my skills, whether or not the person in front of my camera happened to be a model.
Sarah is not only the first professional model it was my happy privilege to work with, she is certainly one of the best. I am a better portrait photographer today than I was when I decided to book two shoots with Sarah, and Sarah and the other models she sent my way deserve a lot of the credit.
Every year when August 10 and 15 roll around I think about our first photo shoots.
Thanks, Sarah!
Originally posted August 10, 2020. Updated October 5, 2021.
Links
Sarah: Nine Years Ago This Evening