There is still plenty of fall color to be found across the country if you know where to go and when. Here are a few great options with links at the end to a lot more options.
Michigan
Michigan is one of my favorite places to go in mid-October. Beautiful colors abound. My preference is to drive north up the west side of the state on US 131 or US 31. They both meet in Petoskey Michigan. When you find great colors, stop and shoot, then head farther north. As long as you are finding great color, head north across The Bridge up into the U.P. Keep going north until you run out of colors (or run into Lake Superior). There was still color at this lighthouse next to Lake Superior October 13. Every year will be a little different.
Minnesota
Today's fall color report from Minnesota shows lots of areas with peak color, including parts of Lake Superior's stunning North Shore. Just start at Duluth and follow MN 61 northeast along the shore. In addition to the rocky coast there are some beautiful rivers and waterfalls along the way.
Colorado
One of my favorite fall color destinations is Colorado. Although the aspen are mostly done in much of northern and central Colorado, in Southwest Colorado in the San Juan National Forest, as of the National Forest Service October 11, 2019 report, many areas were still several days away from peak color. It is not too late to head for the southwest tier of counties in Colorado.
Acadia National Park – Maine
Acadia National Park in Maine is a great place to visit in the fall.
The third week in October is a great time to go to Acadia. As you can see from these photos there was great color in Acadia October 21-22 when I was there two years ago
Lots of photographers and travel writers have picked Acadia National Park as the BEST national park to visit in the fall. I agree with them.
If you go to Acadia, don't miss the pre-dawn light and morning light at Otter Cliff or the sunrise on Cadillac Mountain.
Arrive EARLY at Cadillac Mountain. Showing up for sunrise is a big deal. I arrived 45 minutes before sunrise and the parking lot was almost full. The next parking lot is farther down the mountain and an uphill hike.
There is some outrageous red vegetation near the top of Cadillac Mountain. Don't miss it while you are up there. Just head south. Stay on the trail or walk from rock to rock and stay off the fragile alpine vegetation.
Jordan Pond is a great sunset location at Acadia National Park.
If you are thinking I am a huge fan of Acadia in the fall, well, you are right!
Vermont and New Hampshire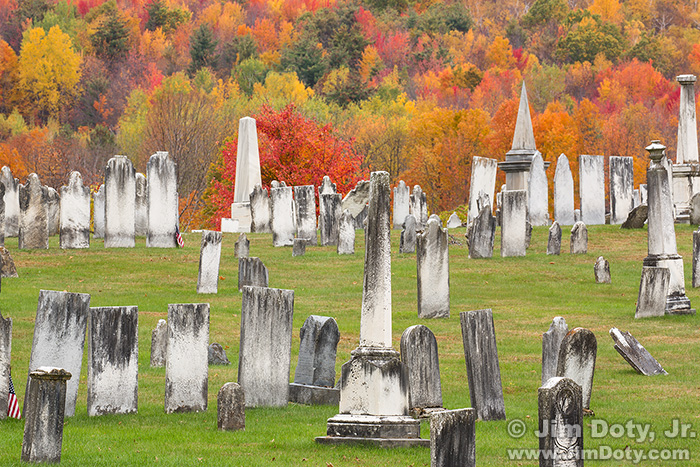 October is a great time of year to go to Vermont or New Hampshire. Peak color for Vermont is usually around the first week of October, but you can still find beautiful colors lingering in SW Vermont for another week or so. I found this array of colors behind this cemetery October 23, even though the Vermont color season was supposed to be over. There are beautiful places in New Hampshire in mid-October. Check out the current New Hampshire fall foliage report.
Cuyahoga National Park – Ohio
Fall colors usually last into early November at Cuyahoga Valley National Park in northern Ohio.
A wide variety of trees means a lot of different colors at Cuyahoga.
Predicting Peak Fall Color Dates Across the Country
Smoky Mountains has a nice, interactive fall foliage prediction map. This is a screen capture for October 12, but you can pick weekly dates from September 7 to November 23 to find the places in the U.S. where fall colors should be at or near their peak.
Parks of the Desert Southwest
The national parks of southern Utah, southern New Mexico, and southwest Texas aren't really fall color locations since the fall color is pretty minimal. But these parks are so hot in the summer that they are ideal to photograph in the fall thanks to better temperatures. Keep an eye on the weather. These parks can range in temperature from balmy to pleasant to downright frigid in the fall.
There are so many more places to go. To help you find more of them and know when to go, check out my Fall Color Reports and Tours page.
Links
Fall Color Reports and Tours – where to go and when
Finding the Peak Fall Color at the Best Locations
Interactive U.S. Fall Foliage Prediction Map
Minnesota Fall Color Finder and Map
New Hampshire Fall Foliage Report
San Juan National Forest Fall Color Reports (SW Colorado)
The Best National Parks for Fall Photography
Two Photographers and Eleven Outdoor/Travel Writers Pick the Best National Parks for Fall
Colorado Fall Color Travel and Photography Guide –  This is my guide to Colorado in the fall. It has over 100 pages of information on the best places to go, the best times to be there, plus suggestions for places to stay and eat. This guide is updated every year.
Arches: How to Photograph Double Arch at Night
Photography in Big Bend National Park