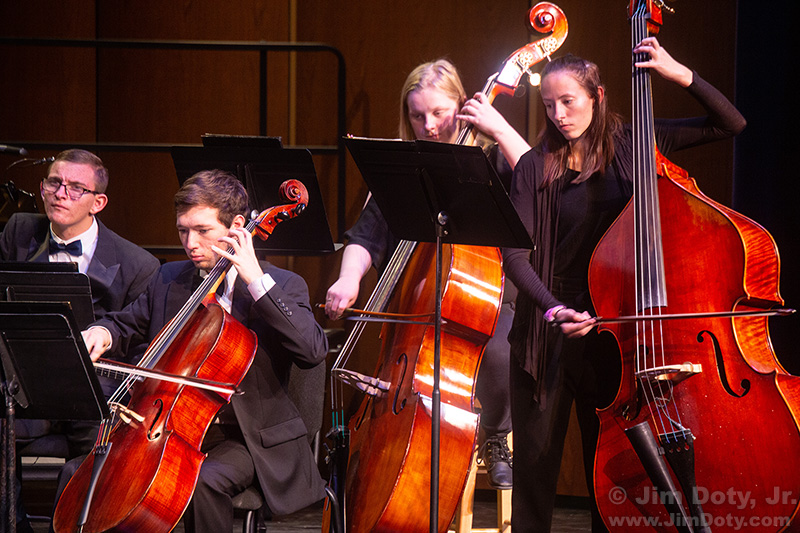 Like a delectable array of tantalizing Christmas goodies that you just can't wait to sample, Friday's night's Graceland University Christmas Concert was a tray of treats for both the ears and the eyes.
As the audience watched the orchestra on stage and waited with anticipation for the concert to begin, the buzz of conversations in the crowd was pierced by the unexpected sound of a solo violin coming from the back of the auditorium. The solo was gorgeous and came like the unexpected song of a Christmas angel. The violin was joined by the combined choirs, singing O Come O Come Emmanuel.

One after another, the tasty items from the goodie tray continued, each as scrumptious as the last. The orchestra played A la Venue de Noel by Marc-Antoine Carpentier, and the orchestra was joined by the combined choirs for Uns ist ein Kind geboren by J.S. Bach.
The audience was treated to two sing-along numbers, with the perennial favorites, Angels We Have Heard on High and What Child is This (one of my all time favorite carols).
Several vocal and instrumental soloists were featured throughout the evening, including Daryn Nowlin, Jordan Bradford, Sydney Billings, Kinsey Collins, Humberto Tinsman, Dora Martz, Noah Wood, and Conner Holben.
Calton and Lauren Allen played piano as the combined choirs sang Still, Still, Still, a lush and beautiful carol that is pretty close to being in musical heaven. If you are a Mannheim Steamroller fan, you will know this carol from the Fresh Aire Christmas album.
In a nod to the visual and the kinesthetic, the Graceland Harmonium sat all across the front of the stage and did a lively hand clapping routine as they sang White Winter Hymnal arranged by the hugely popular Pentatonix.
Dr. Stephen Cunningham (adjunct voice professor) is almost a much fun to watch before he sings as he is to listen to when he sings. With his ultra expressive face, I pictured him as an elf who was up to some kind mischief in Santa's workshop. (If you were at the concert, you know what I mean!) He sang Hacia Belen va un borrito, arranged by Alice Parker and Robert Shaw. If you missed the concert you can hear this delightful number on YouTube.
The lights were dimmed as the combined choirs spread out and surrounded the audience. While they sang Away in a Manger, one by one each person in the choir lit the next person's candle until the auditorium was surround by candlelight.
The grand finale was O Come All Ye Faithful.
The unique artistic thumbprints of directors Jack Ergo and Sara Blessing were all over this performance from the musical selections to the highly visual staging. It is unmistakably clear that Jack and Sara are a real treasure, not only for the Graceland community, but the community of Lamoni.